For the record, there IS such a thing a "Blog Guilt".  It's that thing where you have all this amazing content to chat about and it takes you a year to get it published to the blog?  Blog Guilt.  I have it. Big time.  But I guess that's what happens when you are running an interior design business, a product line, and a family.  So, here is a fun DoOvah that was photographed LAST April by the amazing Jessica Delaney Photography.  Hope you enjoy!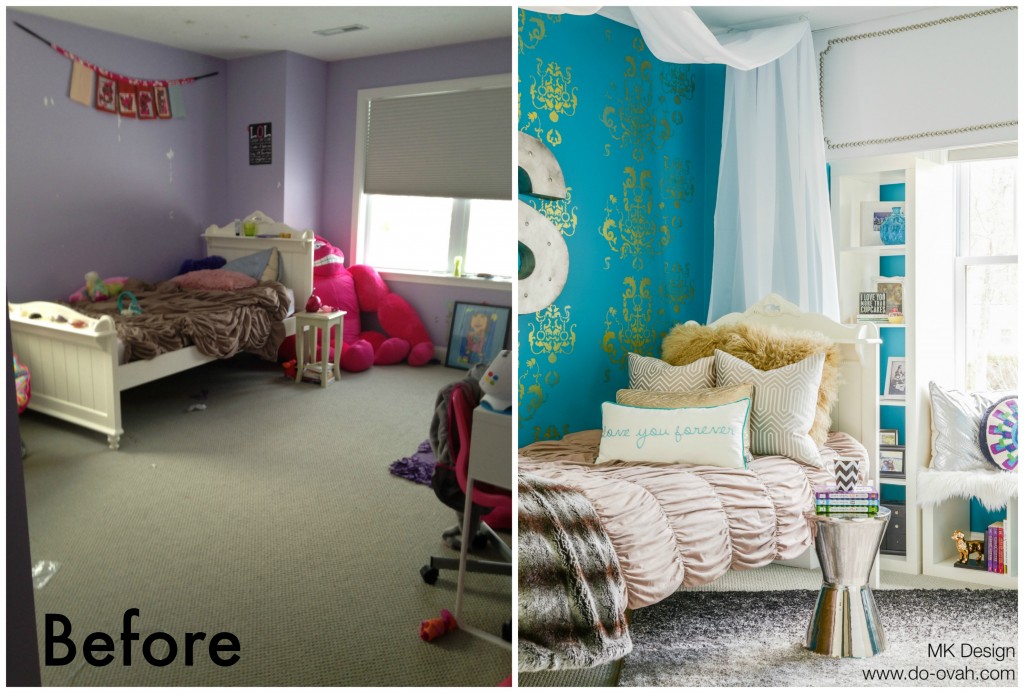 This was a fantastic project for a little girl who had a 'pinterest vision' for her space.  The reveal was also a birthday surprise which made it super fun.  The homeowners weren't looking to spend a ton of money on new furnishings,  but we did splurge on some new accessories and custom window treatments.  The walls were painted  Benjamin Moore Surf Blue and we stenciled one accent wall in gold damask.  We used two IKEA Shelving units vertically and horizontally  to "build" a window seat and hid the top with a custom cornice board for a built in look and give her a cozy place to hang out.  She wanted to keep her bed (in that direction) and her new Anthropologie bedding, but clearly we needed to make it look as fabulous as she is!  The pillows are a combo platter of Home Goods and West Elm with one Jonathan Adler needlepoint pillow thrown in for fun. We made a super simple canopy surrounding the bed that was mounted to the ceiling.  So easy to do with a sheer curtain, a cup hook, and a coat hanger.  I'll blog about that someday…maybe a year from now…ya know Blog Guilt.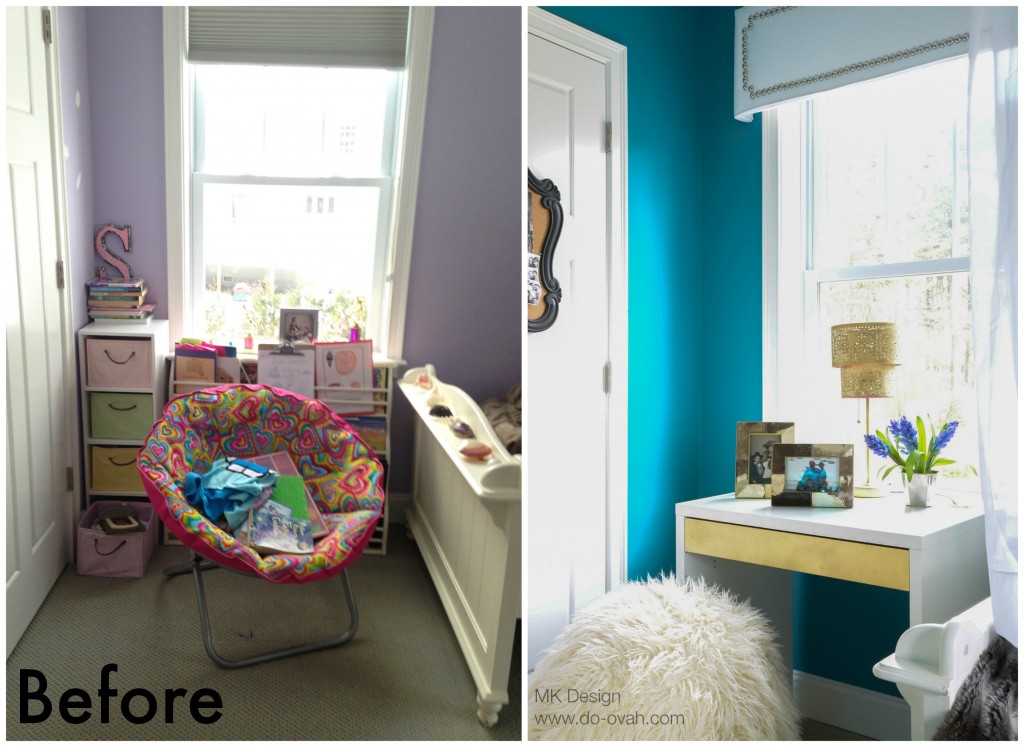 We shifted the desk over the the area under the window.  We painted, or should I say guilded (cauz I'm fancy that that's how I roll), the IKEA desk drawer taking it from orange to gold.  We also painted the pink lamp gold since I had some paint left over.  We loved how it turned out!  Budget friend design going on here people.   Speaking of budget, sometimes you just have to spend a little more to make the design special.  That said, clearly we NEEDED to have the Furlicious Rockin' Roller (I wish I made up that name) desk chair from Pottery Barn Teen  and I'm fairly certain no injuries have ensued.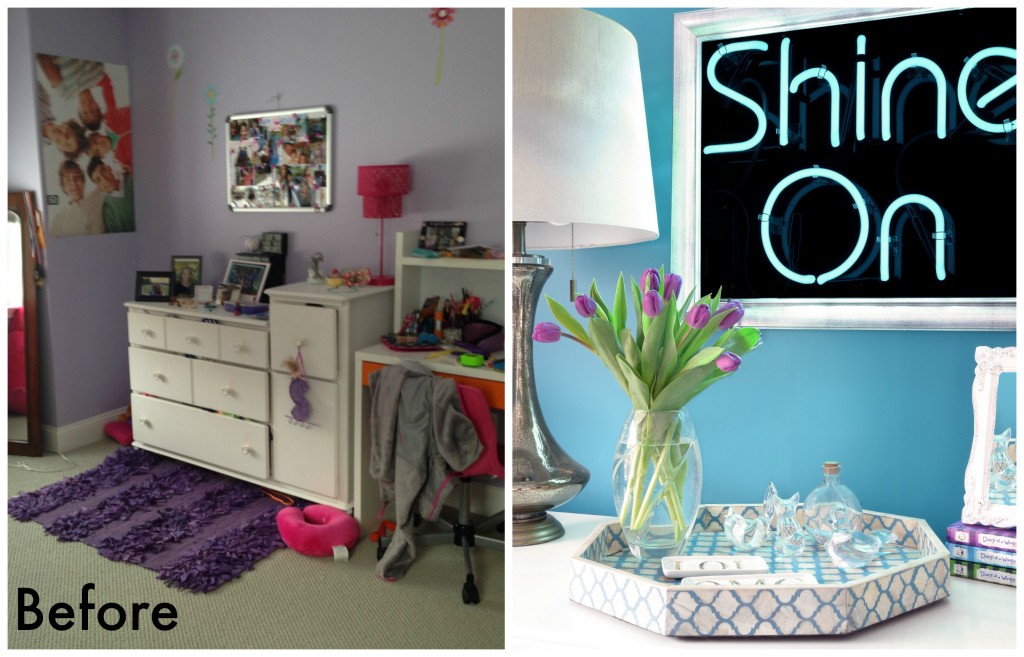 We kept the existing bureau but wanted to create a fun focal point above it.  She came up with her slogan "Shine On" and we had a custom neon sign made!  How fun, right?  (side note: when paying by the letter on the sign we might have encouraged her to come up with a slogan on the shorter side.)  We did an ombre effect on the Home Goods lamp shade.  Also, I was stoked that her love for Diary of a Wimpy Kid novels worked in our favor with the color scheme.  Here are a few other shots of her space!  We are so happy with how the whole room turned out.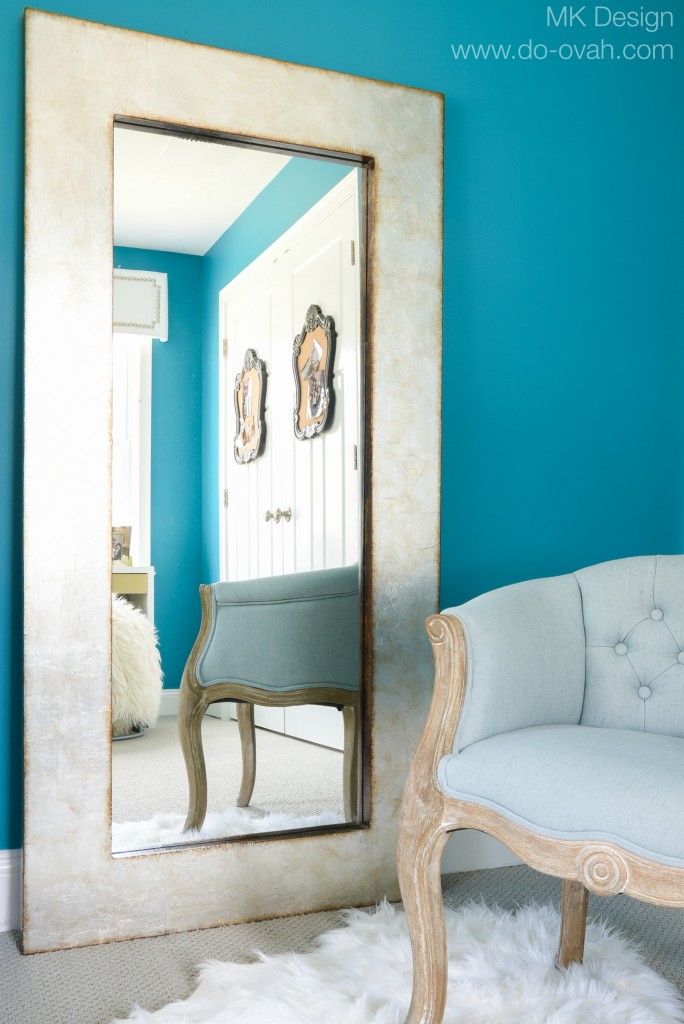 Loved this little chair we scored at Home Goods!
Mirror was from Pier One, but sorry folks, don't think they sell that one anymore.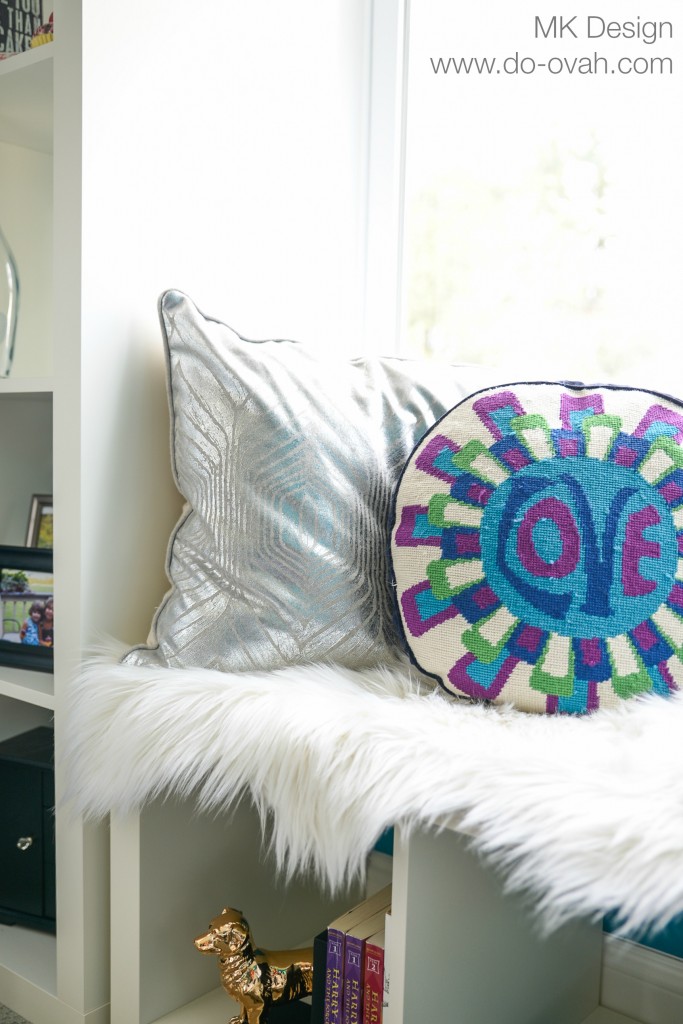 More Fun Home Goods Finds.  Oh, and I love you too Jonathan Adler.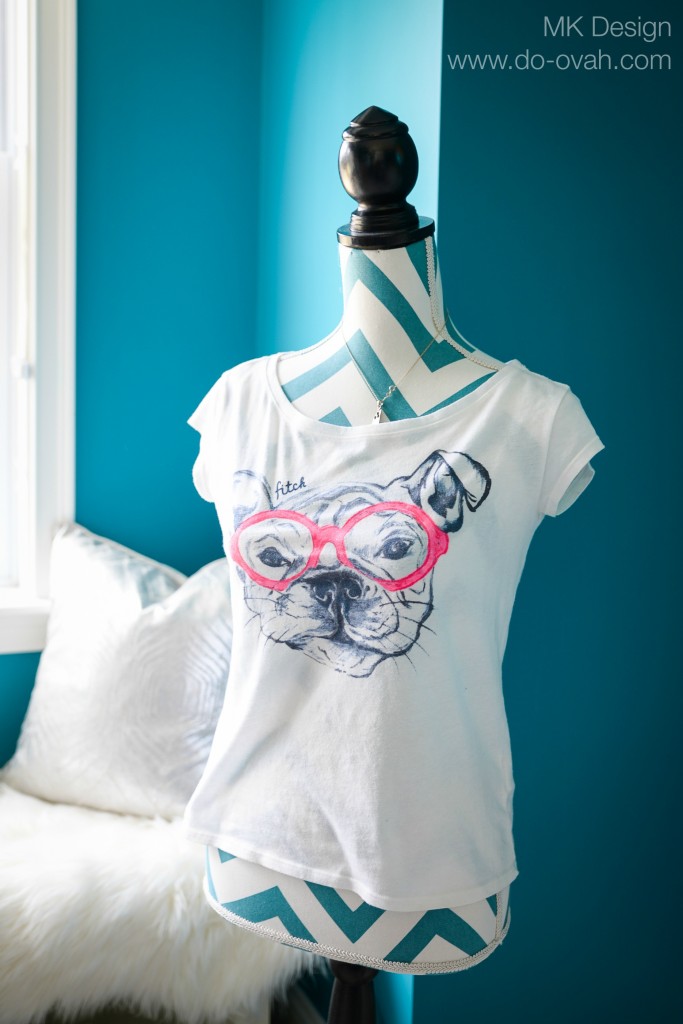 She literally dresses this every day!  So fun to be 10 years old.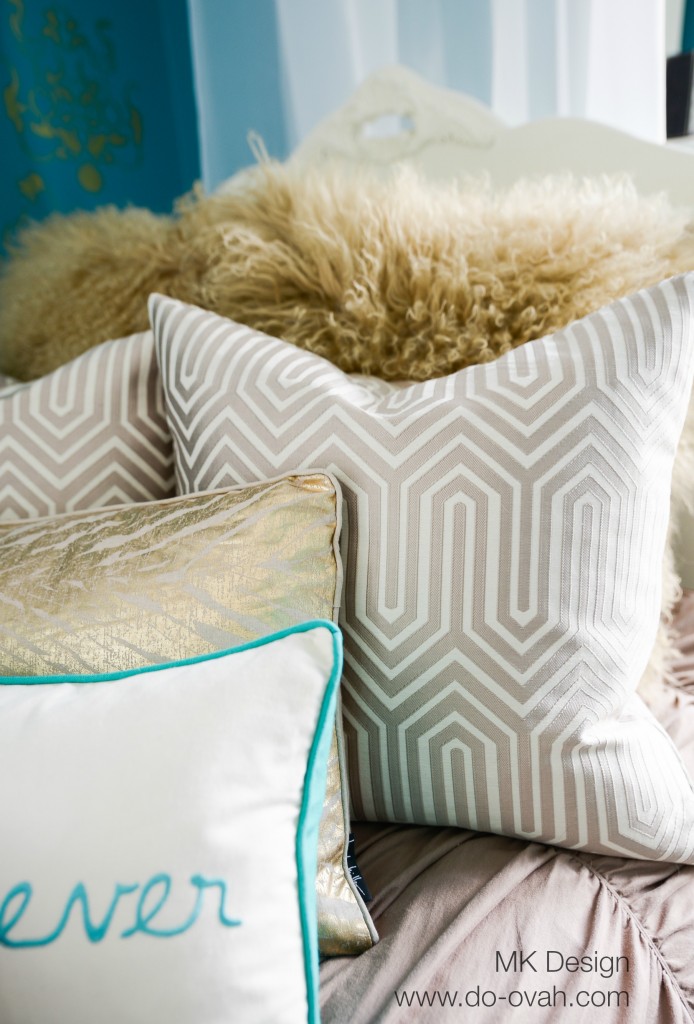 Don't you just want to crawl in here?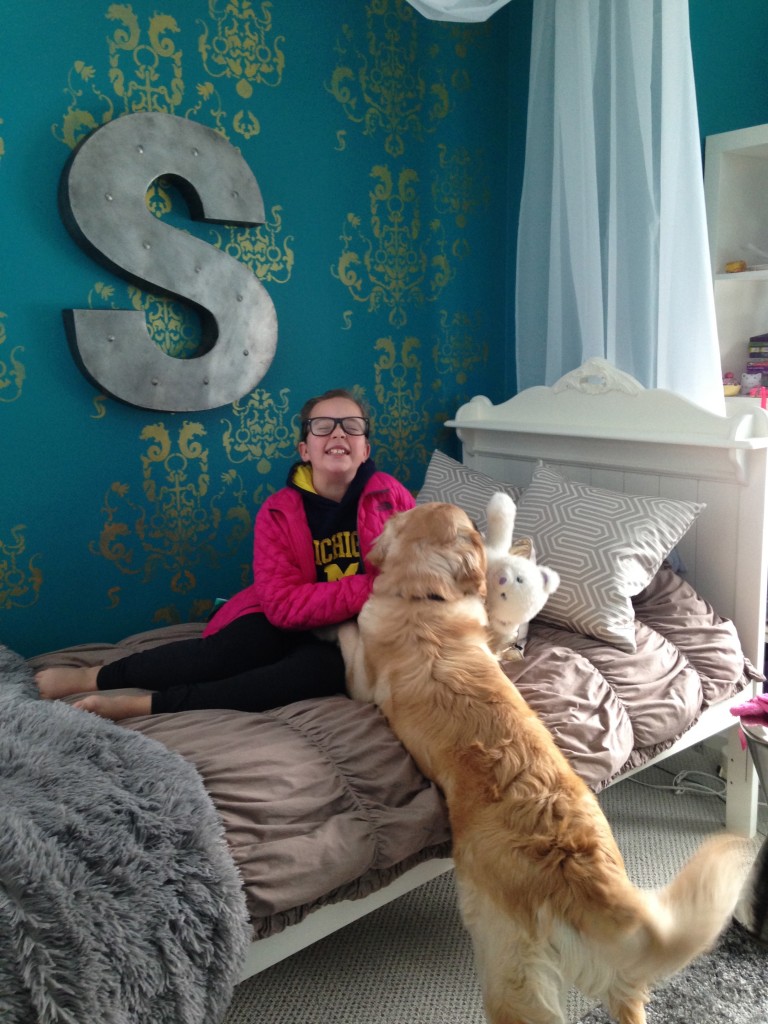 YUP!  She loved.  Another successful 'tween DoOvah complete.